Bible Study Returns 02.08.12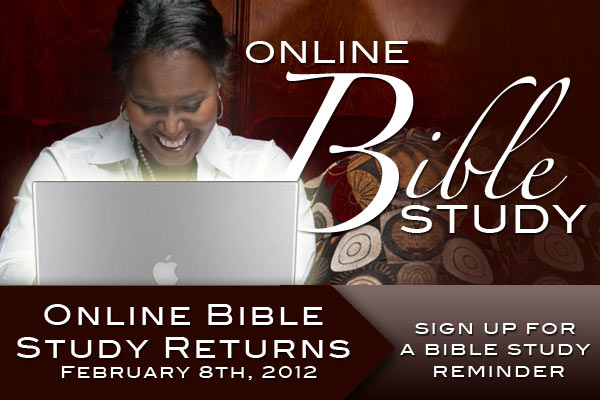 Online Bible study returns February 8th, 2012. Our study will focus on the book of Philippians.
You may review our previous online bible studies focusing on Ephesians, Galatians, Romans and 1 Corinthians, by visiting our online Bible study archive.
Join Jacquie Hood Martin and J. Hood & Associates for the Summer 2012 Leadership Retreat at Innisbrook Golf & Spa Resort in Tampa, FL May 31 – June 3, 2012.
As a leader in strategic planning, professional development, and personal empowerment Jacquie Hood Martin can help guide you to take your business, work ethic and brand to the next level. Learn how to balance your life and take your professional life to new dimensions during this empowering, life changing retreat at the exclusive Innisbrook Golf & Spa Resort. REGISTER TODAY!
Corporations are welcome to attend as part of your leadership planning/training and development for 2012. Take your organizations top level performers and launch them into the stratosphere with direction from J. Hood & Associates.
2012 Leadership Retreat
May 31-June 3, 2012
Innisbrook Golf Resort & Spa
Cost of the 2012 Leadership Retreat: $975
Cost of the 2012 Leadership Retreat w/ Golf Greens Package (4 courses): $1500
*Cost includes retreat registration, lodging, family activity and complimentary transportation while on property. Does not include airfare.
Family activities and options are available at no charge.
Camp Nessie at Innisbrook Golf Resort & Spa offers children (age 3-11) an engaging environment to interact with kids their own age while participating in memorable activities. Camp Nessie is built on FUN. Fantastic Staff, Unparalleled Facilities, Nothing But Good Times. Each day at Camp Nessie is uniquely themed with great crafts and fun games.
Ala Carte options available for the spa and golf outings.
| | |
| --- | --- |
| | Join Jacquie Hood Martin and J. Hood & Associates for the 2012 Leadership Retreat at Innisbrook Golf & Spa Resort in Tampa, FL May 31 – June 3, 2012. |
For more information about Innisbrook Golf & Spa Resort visit http://www.innisbrookgolfresort.com/
JUST BE ABOUT IT!
How many of you are in the middle of a family or friend feud right now? Aunt Sarah said something to Cousin Gene who misinterpreted what Aunt Beth told Aunt Sarah about something Cousin Gene may or may not have said or done. Whew! Confused? Me too. Rumors, gossip, speaking out of turn, eaves-dropping, and generally being involved in another persons business can lead to conflicts that may never be resolved. So how do you manage to stay out of the family and frenemy fray? I am glad you asked. What is important here is that we recognize:
The importance of having open and honest conversations with the person whom we directly have a conflict. The last thing any one needs is to be misunderstood.
The need to remain calm and collected. There is no reason to get upset and lose your sense of civility or respect. When you approach a matter, do with understanding and warmth.
The need to talk to God before we run off talking to the person with whom we have issue. When we get ahead of God and don't follow through with all of what we hear Him saying, or at times refuse to confirm with God what we thought He said, is in fact what He is communicating to you.
The value of getting your facts straight. I think we can all attest that something we saw really wasn't what was happening, just as much as we can say the bit of the conversation we heard, was not all there was to it. When we jump to conclusions we create even greater conflict.
As we each address the matters that are occurring in your family, home, or office, you must first ask yourself a few simple questions, that may be hard to answer.
Why am I drawn to conflict and controversy?
What areas of my life am I not addressing by addressing these areas in someone else's life?
What is basically wrong with me that I cannot stay out of other folks business?
You see when the tables are turned, we all realize that we have issues that we must first address before we go off in a direction that leads us away from looking at ourselves in the mirror. I am not saying you should not take care of matters that are stirring up conflict in your concentric circle of concern. But, what I am saying is that until you allow yourself to have a personal reveal about what is bugging you, then stop bugging other people in the matters that they alone must deal with first. Just something to think about… We don't ever want to find ourselves on the outside of God's blessings. So, before we act we must first determine if we ourselves have come fully to terms with what is about to go down! Take for example the Oprah and Inyanla episodes. How many of you would have been mature enough to have a public conversation, or private for that matter, with someone who you generally believe has offended you? But, you know that you cannot go on with your life and vision for living, if you did not confront and address your concerns. We were witnesses to maturity in action! It is God's desire that His children be whole and healed; a process that starts first with you. Take time to let God deal with you fully before seeking out, lashing out, or acting out!
RECEIVE FREE COACHING FROM JACQUIE HOOD MARTIN!
Starting New Year's Eve 2011. Offer Ends Dec. 31, 2012 @ 11:59:59 PM.
Until the close of 2012 receive a free coaching session with Jacquie Hood Martin (@jhoodmartin) and Facebook @ http://www.facebook.com/TheConciergeCoach.
To receive your FREE coaching session send a message to @jhoodmartin on Twitter (use #JustBeAboutIt or #TheConciergeCoach) or post a message on our Facebook Fan Page, The Concierge Coach. Just Be About It in 2012!
You may also use the comment box @ TheConciergeCoach.com to receive your FREE coaching session.
Offer Ends Dec. 31, 2012 @ 11:59:59 PM.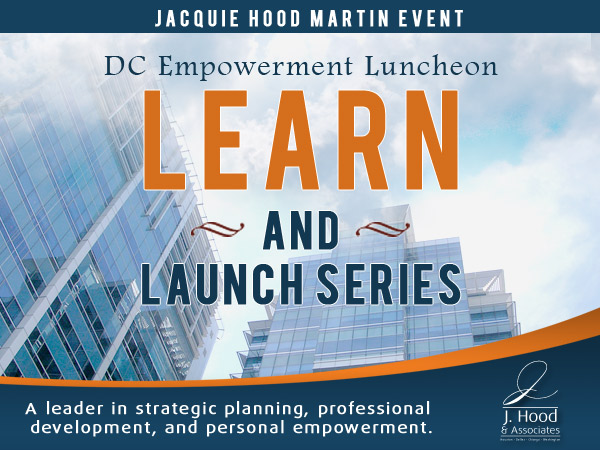 Learn & Launch Series
Our series is more than networking. "Learn & Launch" is relationship building. Building a relationship with yourself so you can take your business, work ethic, and brand to the next level. Getting to know yourself after the kids, the husband, the relationship failure, job termination, and a host of other concerns that only scratch the surface of getting you, back to you! Our monthly empowerment luncheons will give you the guidance and direction needed to restore balance in your life.
· Ever wonder why you are not getting ahead?
· Are you frustrated that your contacts are not returning your calls?
· Can you imagine yourself living a less stressful more balanced life?
· Do you think you can achieve success with your current view of what success looks like today?
· Have you lost your way and need to center and focus your goals and dreams?
The DC Empowerment "Learn & Launch" series is designed with you in mind. Men, women, collegians to corporate executives are discovering that before you leap, you must learn, and as you are learning you are uniquely and strategically positioned to launch what comes next for your life.
Reserve your space and discover truths that will ignite your passion to keep it moving! Registration includes seminar, lunch, and a gift. Cost per person $55. Group and Package rates available. On-site registration is unavailable as lunch is prepared based on accurate registration numbers.
Learn & Launch Series
February 3, 2012, DC Empowerment Luncheon
TIME: 11a-2p
The Willard Building
1455 Pennsylvania NW 4th Floor
Washington, DC 20004
Registration: $55 (Registration includes the seminar, lunch and book.)
Complete your registration by securing your spot in this exclusive and informative seminar. Your life will never be the same! The cost of this seminar is tax deductible.
Register TODAY! Space is limited. Register securely online through PayPal.