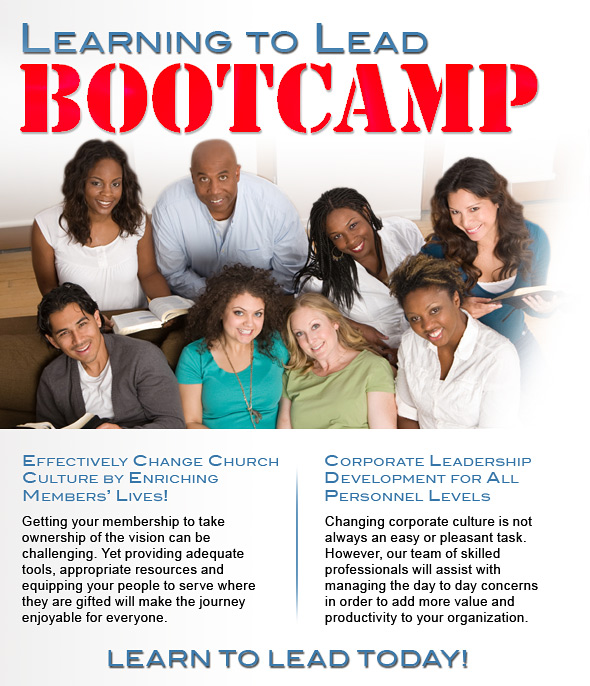 Learning to Lead Bootcamp
Effectively change your bottomline by changing your corporate culture!
Corporate Leadership Development for All Personnel Levels
Customized Training – Corporate
Changing corporate culture is not always an easy or pleasant task. However, our team of skilled professionals will assist with managing the day to day concerns in order to add more value and productivity to your organization. Create training modules to educate, nurture, and re-building lives affected by bullying.
Whether it is team building, leadership development, creating positive change, enriching staff morale, establishing measurement tools for daily office procedures, or implementing a more effective way of doing business, we are here to serve. Our Corporate Environment Enrichment System®, also known as Corporate Bootcamp, gives you seven dynamic platforms from which to launch your vision into a more productive future. We offer:
Office Proficiency Assessments
Staff Temperament Analysis
Leadership Awareness Training
Long-term involvement placement
Managing Office Conflict
Understanding Teams
How to Become a Person of Influence
We offer Leadership Development Training for corporate, staff retreat and leaders in the areas of:
Relational Skills
Communication and Conflict
Customer Satisfaction
Grief Coping Skills
Management Styles
Administrative Procedures
Personal Growth and Motivation
Leadership
Initiative
Learning to Lead Bootcamp
Effectively Change Church Culture by Enriching Members' Lives!
Church Leadership Training for all Ministry Levels
Church and Community
Church Ministry Development
Church Ministry Assessment (2 day visitation)
Ministry Leadership Training
Mission and Vision Statement Preparation
Church mission/vision preparation and evaluation toward meeting community needs. (2 Chronicles 15:7)
Building A Disciple Making Church
Foundational development on the heart, focus, way and form of discipleship. (Ephesians 4)
God's People and Prayer
A symposium on the elements, dynamics, hindrances and power of prayer. (Jeremiah 33:3)
Transformational Discipleship
Tools and resources for ministry participation in the areas of worker enlistment, teacher training, leadership development and ministry start up. (2 Timothy 3:16)
Growth-Oriented Sunday School
Sunday School for a new century is focused on growth by equipping students to be effective gospel witnesses and leading through biblical education. (Acts 16:31)
Come Bow Down
Learn how praise, worship and meditation are important to our experiences with God. (John 4:24)
Administrative Development
A church training strategy for ministerial and office procedures for effective church work. (Isaiah 30:21)
Rural America Event
A gathering of churches in small towns for the purpose of community training to meet area needs.
Customized Training – Church
Getting your membership to take ownership of the vision can be challenging. Yet providing adequate tools, appropriate resources and equipping your people to serve where they are gifted will make the journey enjoyable for everyone. Created training modules to educate, nurture, and re-building lives affected by bullying. Below are a myriad of opportunities from which to choose. We plan, prepare, and provide you with appropriate training to facilitate your mission, vision and goals. Whether it is personal growth, spiritual maturity or community outreach, we can assist with these training opportunities:
Bible to Life Application Seminar
Leadership with Volunteers
Renewal through Prayer Symposium
Building a Disciple Making Church
Church Communication & Conflict
Effective Communication
Curriculum Strategies for Discipleship
Need to customize training to meet a specific need in our church.
We encourage you to maximize your potential.
Join Dr. Jacquie this year for the premiere Success in the City Tour. The April 2018 Spring stop will be in the Loudoun County area, at the Leesburg Junction. The most impactful 2-hours of your life!
The Learn to Lead Bootcamp: Cost $50. You only need to attend the (1) 2-hour session. Contact her at http://jacquiehood.com/contact/ for details. Combined or individual sessions available.
– Know Yourself – Grow Yourself – Lead Yourself – Propel Yourself
Register for the Learning to Lead Bootcamp securely online through PayPal or use the contact information posted below or the form to submit an email to Jacquie Hood Martin.
Classes are available
Tue, April 17, 2018 11:30 AM – 1:30 PM EDT
Tue, April 17, 2018 6:30 PM – 8:30 PM EDT
Wed, April 18, 2018 11:30 AM – 1:30 PM EDT
Thu, April 19, 2018 11:30 AM – 1:30 PM EDT
Wed, May 16, 2018 9:30 AM – 11:30 AM EDT
Thu, May 17, 2018 6:30 PM – 8:30 PM EDT