Mastermind Leadership Training Classes Facilitated By Debra Bell | April 12th – May 17th CST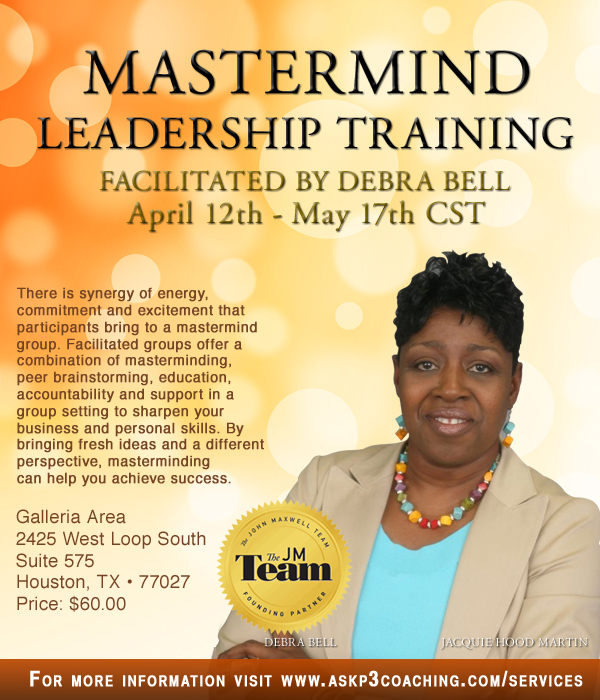 Mastermind Leadership Training Classes facilitated by Debra Bell 
April 12th – May 17th, 2012
There is synergy of energy, commitment and excitement that participants bring to a mastermind group. My facilitated groups offer a combination of masterminding, peer brainstorming, education, accountability and support in a group setting to sharpen your business and personal skills. By bringing fresh ideas and a different perspective, my masterminding can help you achieve success.
Key Benefits of a MasterMind Group:
Sharpen your business and personal skills
Increase your own experience and confidence
Create real progress in your business and your life
Add an instant and valuable support network
Get honest feedback, brainstorming and advice
Study the "21 Irrefutable Laws of Leadership", create an action plan and have the group hold you accountable for fulfilling your plan and goals
Receive critical insights into yourself
Optimistic peer support in maintaining a positive mental attitude
A sense of shared endeavor
Join Debra Bell April 12th – May 17th, 2012 for the Mastermind Leadership Training
Galleria Area
2425 West Loop South
Suite 575
Houston, TX • 77027
Price: $60.00
For more information visit http://www.askp3coaching.com/services.