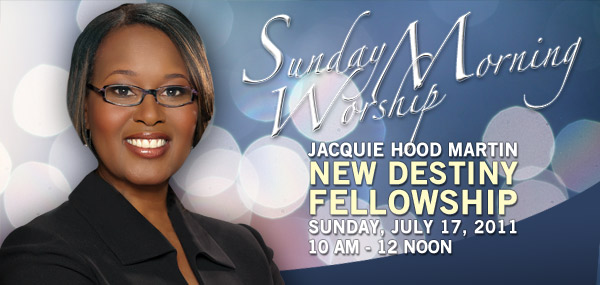 July 17, 2011, Rev. Jacquie Hood Martin Sermon Title: "Make A Move"
New Destiny Fellowship Church, Wilmington, Delaware
Senior pastor Apostle Thomas Weeks
Rev. Jacquie Hood Martin, guest pastor
Exodus 14:1-4
Sermon: "Make A Move"
– How will you be on the end of someone else's madness and things are no longer tolerable.
– We get entrenched in our communities that the way things are going is the way it will always be that way.
– Some things are no longer beneficial.
– How often have we woke up next to someone and said, "It's time to end this thing."
– The people have to put into action what they have seen, heard and already know.
– God honored Moses' request to let my people go. Pharoah agreed to that demand, but later reversed his decision.
– How many people in your life are benefiting from your misery? When will you to decide to cut them off? There will always be a naysayer trying to keep you away from what God has spoken into your spirit.
– Pharoah chased the people with his 600 chariots.
You may believe you are walking through a new door, but you must close the physical or emotional door so as not to allow a crack to be left open.
– I would rather go boldly with God and not knowing where you are going, rather than stay in a dead end situation. (Exodus 14: 10-13)
If you go back you face your past; are in danger; and may die. Things are not better if they go back.
– If we stand still we are still in harms way.
– God is trying to tell you that I need you to trust me.
More than verbalize that you are going to make a move, you need to physically make a move.
– Moses tells us to be still and wait on God.
– God revealed to them where they were going but didn't tell them to take off. They have to wait until God tells them.
– Many of us keep waiting on all kinds of signs from God. Even God had to chastise Moses (Exodus 14:15-18)
– This is your season to see change manifested.
A prerequisite to a blessing: God says he's going to do something. You are going to do your something; then He will show you his something.
– God's will, done God's way, will never lack God's supply.