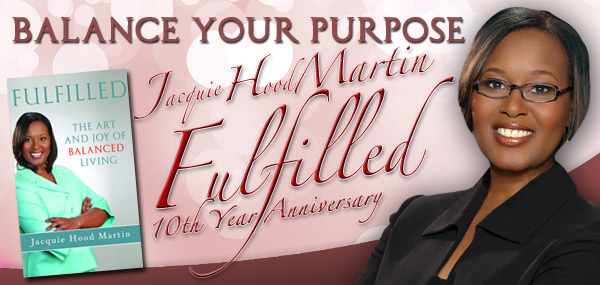 "My Sister to Keep" Sophia Nelson Interviews Jacquie Hood Martin About Her Book Fulfilled! The Art And Joy Of Balanced Living
Jacquie thanks for talking to us at "My Sister to Keep" via our blog. Give us a prelude-who are you-why did you write this book–what are you trying to achieve? My anthem song as I was coming into my preteen years was Helen Reddy's "I Am Woman". All the lyrics are appropriate, yet it is the chorus that became my mantra for 20-years of healing and living out my life in the world.
But it's wisdom born of pain

Yes, I've paid the price

But look how much I gained

If I have to, I can do anything

I am strong (strong)

I am invincible (invincible)

I am woman
…Fulfilled! The Art and Joy of Balanced Living comes after years of self-reflection of how I have become the woman I am today. In 1976 my life took an unexpected turn, which I write about in the book. Prior to the book being written, it was a workshop series entitled Seven Biblical Laws of Fulfillment conducted over a two-year time span. In a few months the books' principles and teachings will have been in print for 10-years. The book itself is an achievement of guiding others toward understanding their purpose, balancing their purpose, and living out their purpose in a meaningful way in society. We all have opportunities that will shake our foundation. The insight in the book guides people toward a life that is enriching and rewarding; a place where in their personal space they are at peace within.
Question 1: Why this book? Why now?The book is as relevant today as it was when released for purchase in 2001. The book is coming up on a 10-year anniversary–and my purpose is to continue to guide a new generation of individuals with managing the way they find their lives unfolding. I help people balance their purpose and find joy in their lives in the midst of and in spite of whatever else is going on with them and has gone on with them. In the book I weave personal tragedies and triumphs with biblical history, promises, and truths which afforded me the ability to emerge a whole, happier, and healthier person. The book like most things in my life, are strategically planned. I am a calculated risk taker. The journey to write the book began prior to getting married, but just shortly after I my role as Minister of Christian Education was coming to a close. It was time to build the legacy that had long past been revealed to me. I got married at age 36, and after a two-year physical writing process, and 15 years of internalization and reflection, the book was ready for public reading. I enjoy seeing people living out and applying, that which enables them to live their lives to the fullest. Now as a newlywed, I found that my own life lessons helped me to see the woman I was in the process of becoming. I like seeing people live out what I write about. In the book there are specific principles such as The Law of Perspective, The Law of Harmony, The Law of Creativity, and the Law of Empowerment; all which are critical to us as human beings.
Question 2: What is fulfillment? The primary principles in the book are biblically based; and whether you are a believer or not, the bible is often us as a resource for even learned men and women. In John 10:10—it is recorded by Christ "that I have come that you may have life, and have it to the full or more abundantly". No matter if you are looking for fulfillment or abundant living, this promise is yours if you chose to accept and receive it. Each of us must you come to recognition that your life is waning and wanting for something more than what you are presently experiencing. This may not be true for all people, but in any given season or circumstance there is more we can gain and feel good about it. What keeps people from going after what they want? What they need? But more importantly what is keeping that individual from going after it!
Question 2b: How do you live your life to the full, which leads you to/toward fulfillment?As a person of faith I say, "as your life becomes faith-centered" you will discover you have not come by your success or accomplishment on your own; we have not done these things by ourselves. We come to understand destiny, and not determination alone, have paved the way for us to have access to information, resources, people, and tools that give us the ability to excel. Yet, there are those who are not of any faith or of a different faith and that fulfillment is possible even for non-believers, just not in the biblical sense of John 10:10. If you or when you operate under your own will and do not live your life casually–fulfillment and purpose can be interchangeable. There are two kinds of people: producers and consumers. We must define which one we are and then determine where we go in life with our choice. We all pine for relationships with something greater than ourselves—for the believer it is our relationship within the Trinity, partnered with people of influence. And, for the non-believer it is the association or affiliation with the influencers within their inner circle or the inner circles in which they choose to affiliate.
Question 3: What is the art of balanced living –what does that mean? It takes finesse to live your purpose. The book speaks directly to those who have found it, are living it, and when the occasion arises need assistance in getting into rhythm again after life provides a few bumps and bruises. It also reaches those who have had difficulty find their way and once they have found it refuse to let anyone or anything deter them from the path. Discovering what you want from life and knowing how to get it can take you down a few different avenues. There is an art to honing your skills, influences people of your value and worth, and then exposing yourself to others, without becoming exploited or getting to high and mighty. The art of balanced living I liken unto knowing how to use wisdom wisely.
Question 3b: What about those for whom it is not so effortless? Some stumble upon what they are good at doing. It was there all the time, it simply went un-nurtured. One of the principles in the book is the Law of Creativity. We are all have hidden talents, pronounced gifts that manifest themselves when given the opportunity to do so. Some people are born to lead; others are trained to lead. And, when you are good and gifted at what you know you know how to do, you do it with flair and a delightful attitude. A je ne sais quoi! Yes, it is unexplainable how they do what they do with such ease and passion. No matter how you discover your passion, gift, or call in life…here is where the joy comes in. You believe you have a purpose and something to offer, yet finding your purpose make take you a little longer. It takes times to find your purpose and find what you are born to do. The one thing people understand is that they are not willing to live a life of mediocrity and will take the necessary steps to find purpose, balance, and positivity.
Question 4: Tell us about your ministry My life is a ministry. I was born to help people find balance to manage life's everyday encounters. Everything I do centers around living out my purpose and helping others find and balance their purpose. It is my essence. Now as for careers in ministry I was the first female staff pastor at a church in Houston, where I served for ten-years as the minister of Christian Education, building programs that facilitate growth in God's people. My last post was Co-pastor of a church I co-founded in Chicago, that offered family wrap around services such as a job search program, clothing pantry, life skills workshops, economic empowerment, and a place for teens to showcase creative Arts. Additionally, I was afforded an appointment as a College Vice President within the City Colleges of Chicago higher educational system. I am a people person and helping students discover their ability to learn so that they can provide for their families gave me the greatest since of fulfillment in fulfilling my purpose in the secular arena. Currently I am writing a few new books, taking speaking engagements, preparing for the 10-year anniversary events for this book, and sharing my life lessons through a 52-week column series I am writing for www.jacquiehood.com and http://www.hopeforwomenmag.com. The series is "How to Heal After the Reveal". The face-to-face sessions include lunch or a cupcake celebration.
Question 5: Why do you think so many people seem unfulfilled in a time when we have so much? Split question! It is not that we have so much, is as much as we have access to so much; access which is unattainable and unavailable for some people. Equally, being unfulfilled is not about access as much as it is about missed opportunity and settling for less than what you are capable of achieving. And, it is at this juncture when gaining all that is available remains elusive. The book, Fulfilled! The Art and Joy of Balanced Living provides people with a chance to do things differently. To make peace with their past, to make better choices, to open their eyes and take a closer look at themselves and desire to dream bigger than they have ever dreamed prior to now. And, this time knowing they have a greater chance at accomplishing it because they have learned a few life lessons they can apply wisely as they go along their journey.