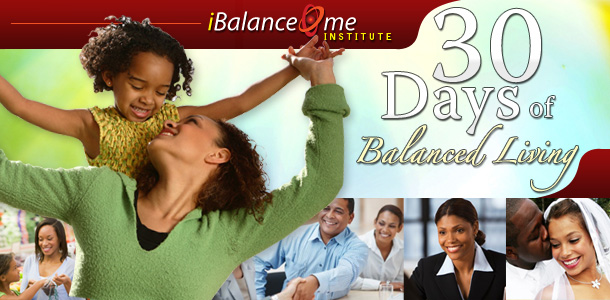 30 Days of Balanced Living: Day 9
Today let's begin with the role faith plays in our lives. This is the part of the journey where you discover how to plant deep roots. The roots of faith will sustain in times of imbalance. If you want to live a balanced life, consider making small changes everyday. But remember, it is your perspective that matters: who you are, what you think, and what guides you forward. Sometimes we get lost in the doing and are unable to stay focused. Staying focused will support the order you are seeking in your life.
I know full well how difficult it can be to try to accomplish big dreams on your own. So, what I have discovered, when facing things beyond my control, is to rely on my faith. Here are three areas in which you must sure up your faith in order to succeed in your balanced living quest.
You have to have faith in yourself.
You have to have faith in God.
You have to have faith in your team (people around you).
Growing in our faith, seeking the direction and guidance of God, facilitates our ability to reach for those things that are meant to be ours. Little faith, or no faith, even people who do not profess in Christ might consider in a moment of weakness there is a power out there greater than self. So you need to be realistic about what is in the way of your vision becoming a reality. It is foolish to believe that opposing forces will not try to stop your plans. Be ready!
Welcome to Day 9!
Challenge Questions: Have you tired yourself of gaining partial balance? How will you use faith to acquire balance?