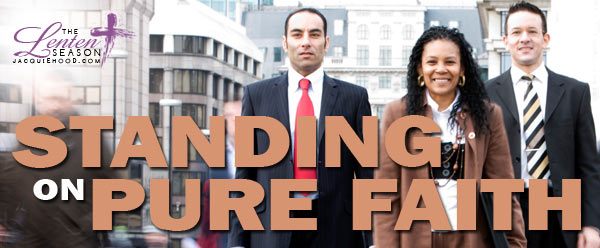 Lenten Season Life Lesson 3 | Standing on Pure Faith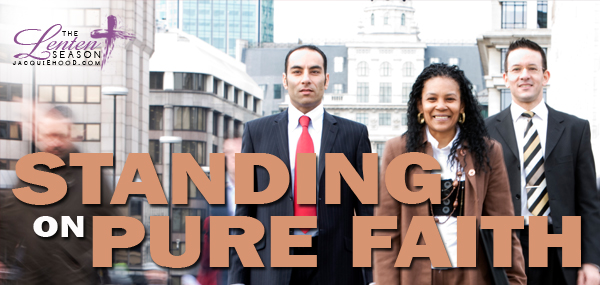 Lenten Season Life Lesson

Faith is one the four cornerstones of my and many believers' journey. And, even if you are not a believer there is some truth that you live by that gets you through each day of your life. When you face cancer.  When a soldier faces a bullet. When we face the loss of a loved one or loss of loved ones. When you face a blood test.  When you face a negative pap smear. When you face a urine test. When you face your fears. When you face your attacker. When you face the truth. When you one-day stand face-to-face with God, you will have completed all that you believe you have done well, by faith. A 'faith-warrior' will look at a challenge and figure a way to approach it.
Recognize you cannot solve the reveal all at once:

You see a large part of healing after a reveal is dissecting it piece by piece so that you are sure to cover all the angles.

Get a hold of yourself before you allow your life as a believer to become a contradiction!

Sadly many people try to live their life over once a fact about them has been revealed. They never seek God to find out whether or not the life they are living is the one they would be living if the knew the truth sooner.

Expect triggers:

The trouble with a reveal is largely due to memories, encounters, decisions, fears, facts, and more being to fill your brain relative to your past, present, and future. There are days when a sounds, smells, a touch, a picture will trigger or cause a response.

Expect the unexpected:

When we possess knew knowledge, it is hard to determine how we will react to additional information, or encounters that may stress us even more.
There are times, however, when moving forward paralyses us. We begin to over-analyze our past failures and destroy any remnant of hope for a future. Failure is not a part of God's reality. A reveal allows you to let God, who is seeking to bless you, step in and add value from our pain to your life. Timothy reminds his listeners, 2 Timothy 2:7, that a spirit of timidity is not an inherited trait of God's children. Therefore, any uneasy feelings you have about your present and future success can be erased. You erase your feelings of fear with a vision of yourself being successful, conquering your problems, and pushing your way through rather than falling victim under the weight of doubt. It is time to accept that pursuing your passion and purpose will drown out the cries of your inner child who fears the known. It is time to look in the mirror and say 'Self…this is your life, now go out an live it!'

Broadcast LIVE from Atlanta to The Willard Hotel, Washington DC, on Friday, May 4, 2012, Chick-fil-A Leadercast offers a unique opportunity to hear from some of the top leadership and business thinkers in the world, including Soledad O'Brien, Patrick Lencioni, John Maxwell, Marcus Buckingham and others!

The choices you make define the leader you become. And the choices you make are not just about you. They're about having a positive impact in your organization, your community, and beyond. That's what Chick-fil-A Leadercast 2012 is all about.
Life changing events start with a simple choice. Attend the Chick-fil-A Leadercast 2012 hosted by Jacquie Hood Martin in Washington DC at The Willard Hotel.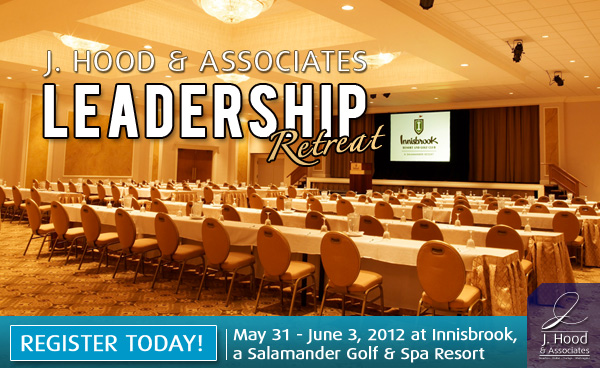 Corporations are welcome to attend as part of your leadership planning/training and development for 2012. Take your organizations top level performers and launch them into new levels of leadership with direction from J. Hood & Associates through Master Minding. Join her for a 3-day intensive through Put Your Dream to the Test, The 21 Irrefutable Laws of Leadership, and more.

REGISTRATION DEADLINES & DATES TO REMEMBER 
March 31, 2012 – Initial Payment due
Payment Option 1 – Half Payment of Leadership Retreat. Remaining balance must be paid on or by April 18, 2012 (contact jacquie@jacquiehood.com for details place Leader Retreat in subject line.)
April 18, 2012 – Final Payment due
Payment Option 2 – Full Payment For Leadership Retreat can be submitted until April 18, 2012. Remaining balances also due.
| | |
| --- | --- |
| | Join Jacquie Hood Martin and J. Hood & Associates for the 2012 Leadership Retreat at Innisbrook Golf & Spa Resort in Tampa, FL May 31 – June 3, 2012. |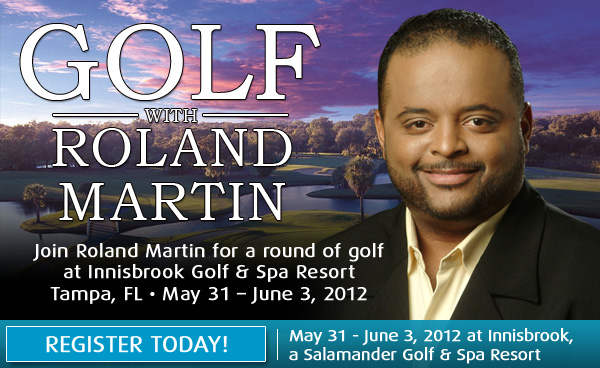 Corporations are welcome to attend the 2012 Leadership Retreat as part of your leadership planning/training and development for 2012. Take your organizations top level performers and launch them into the stratosphere with direction from J. Hood & Associates.
Don't miss the opportunity to play a round of golf with Roland S. Martin, CNN Political Contributor and host of TV One's Washington Watch with Roland Martin.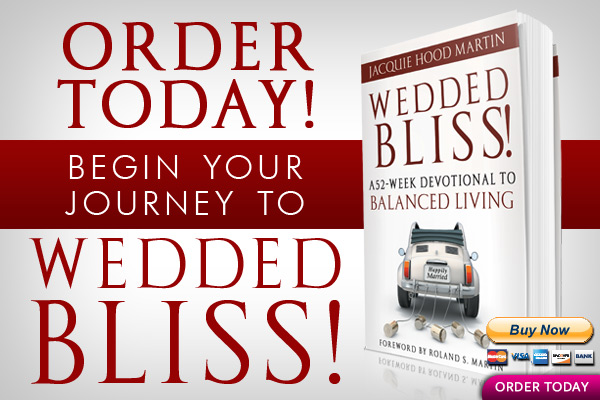 Nothing worth gaining or maintaining has ever come easy. So for the next 52-weeks you will be engaged in practices of reading, writing, and reflecting. And yes, at times the dreaded application of what you are learning. Each day for 45 weeks you will be guided by spiritual words of meditation to help facilitate a new perspective toward love and marriage. The devotionals are written to equip, enable, and empower you toward a life rooted and grounded in the Word of God.