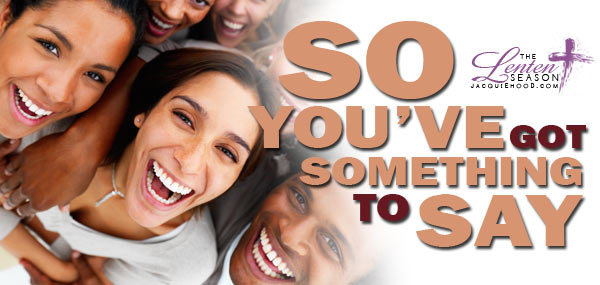 Lenten Season Life Lesson 4 | So Now You've Got Something to Say
In the last few weeks I have heard from countless number of people who have expressed a desire to make a reveal. I have prayed you and your situation, and here is what the Lord has given me. It is the "if this, then that" which I come up with for you.  If you are honest with yourself you may be on your way to preparing yourself for a reveal.
Do you want to reveal that you may begin a process of healing?
Do you want to reveal that you may inflict hurt and pain on someone?
Do you want a reveal that you may draw sympathy from others and begin a pity party?
You see, 'hurting people hurt other people.'  And, what I have learned is that if maturity is not present then it is better to keep what you have to say to yourself. When we get ahead of God and think that He wants us to share something because it is pressing on our heart, we must first determine if we ourselves have come fully to terms with what has happened. It is Gods' desire that His children be whole and healed; a process that starts first with you. Take time to let God deal with you fully before you seek to reveal. Here are a few things you need to address.
You need to be in a place of forgiveness.

You need to be in a position to be ok with not being forgiven.

You need to accept that whatever you have to reveal may only make matters worse.

You need to be in it for the long haul to sort out the pain that is coming to bear on the person to whom you are about to reveal.
A reveal requires you to be accountable, responsible, and available. You cannot reveal something and then say ok 'now you deal with it, it's off my chest!" This is what is considered to be irresponsible and insensitive. A clear way to prepare yourself for a reveal is to ask yourself a series of questions that the recipient may ask in order for you to determine your own emotional stability. This will also allow the Holy Spirit to show you how the person may react. Often time it is better to pray and let God handle how and when a reveal happens. This is not a matter for you in your humanness to take on. What it takes to move on with your life after a reveal is not for the faint of heart. Prayer. Encouragement. Support. I would say all the above. A reveal is not to be taken lightly. You should pray and ask God to show you if what you have to reveal is for you alone, or is it to be shared with others. The word says,  "that as far as the east is from the west, so is it that your sins are from you." The word also declares, "blessed in the man who sins and God does not impart judgment." Many things are simply for us so that we learn valuable life lessons and never to err again. Yet, there are some things that if not revealed, may destroy a life, a family, a community, or a nation.  In either situation, God should be involved that He may guide the process toward the revealing and the healing. I would always ask myself "What good will come from this reveal?" And, this is a question and answer session you should have with yourself as well.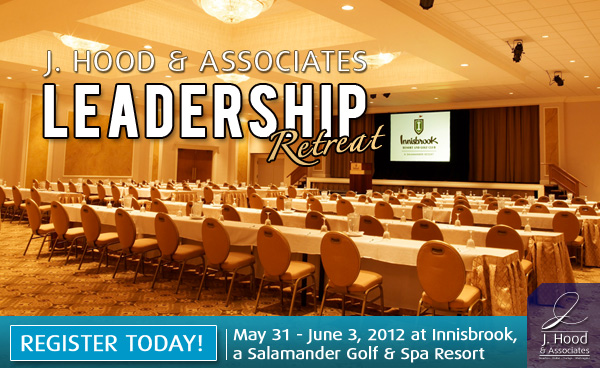 Corporations are welcome to attend as part of your leadership planning/training and development for 2012. Take your organizations top level performers and launch them into new levels of leadership with direction from J. Hood & Associates through Master Minding. Join her for a 3-day intensive through Put Your Dream to the Test, The 21 Irrefutable Laws of Leadership, Fulfilled! The Art And Joy of Balanced Living, and more.

REGISTRATION DEADLINES & DATES TO REMEMBER 
March 31, 2012 – Initial Payment due
Payment Option 1 – Half Payment of Leadership Retreat. Remaining balance must be paid on or by April 18, 2012 (contact jacquie@jacquiehood.com for details place Leader Retreat in subject line.)
April 18, 2012 – Final Payment due
Payment Option 2 – Full Payment For Leadership Retreat can be submitted until April 18, 2012. Remaining balances also due.
| | |
| --- | --- |
| | Join Jacquie Hood Martin and J. Hood & Associates for the 2012 Leadership Retreat at Innisbrook Golf & Spa Resort in Tampa, FL May 31 – June 3, 2012. |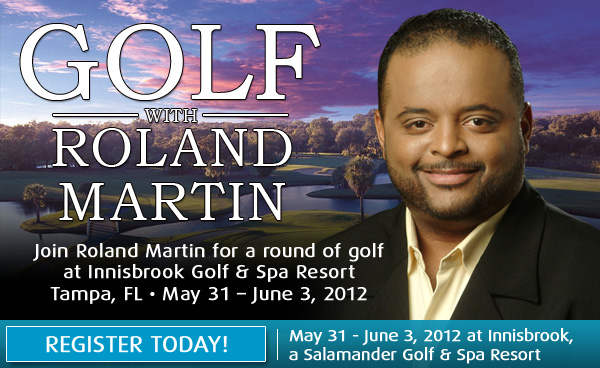 Corporations are welcome to attend the 2012 Leadership Retreat as part of your leadership planning/training and development for 2012. Take your organizations top level performers and launch them into the stratosphere with direction from J. Hood & Associates.
Don't miss the opportunity to play a round of golf with Roland S. Martin, CNN Political Contributor and host of TV One's Washington Watch with Roland Martin.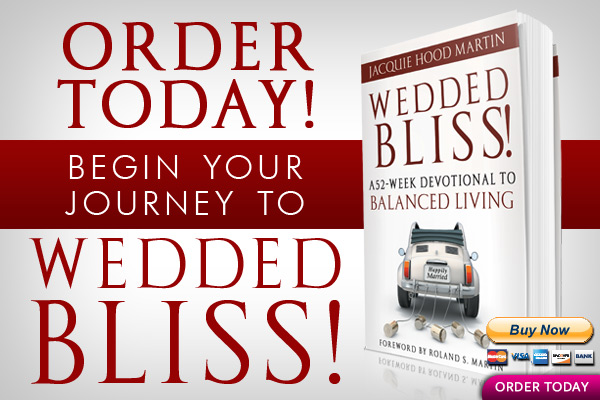 Nothing worth gaining or maintaining has ever come easy. So for the next 52-weeks you will be engaged in practices of reading, writing, and reflecting. And yes, at times the dreaded application of what you are learning. Each day for 45 weeks you will be guided by spiritual words of meditation to help facilitate a new perspective toward love and marriage. The devotionals are written to equip, enable, and empower you toward a life rooted and grounded in the Word of God.
ORDER TODAY to begin your journey to a balanced life!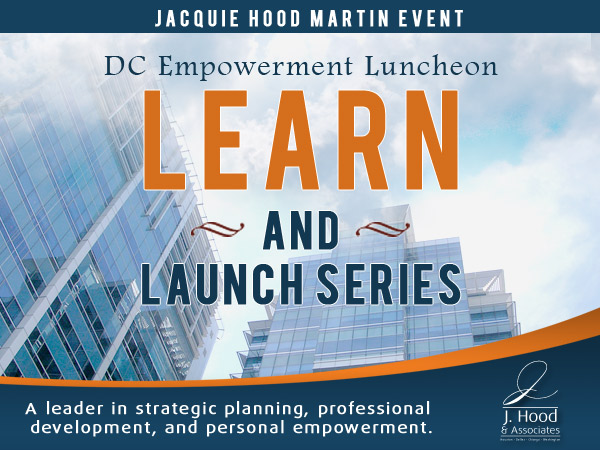 Learn & Launch Series
Our series is more than networking. "Learn & Launch" is relationship building. Building a relationship with yourself so you can take your business, work ethic, and brand to the next level. Getting to know yourself after the kids, the husband, the relationship failure, job termination, and a host of other concerns that only scratch the surface of getting you, back to you! Our monthly empowerment luncheons will give you the guidance and direction needed to restore balance in your life.
· Ever wonder why you are not getting ahead?
· Are you frustrated that your contacts are not returning your calls?
· Can you imagine yourself living a less stressful more balanced life?
· Do you think you can achieve success with your current view of what success looks like today?
· Have you lost your way and need to center and focus your goals and dreams?
The DC Empowerment "Learn & Launch" series is designed with you in mind. Men, women, collegians to corporate executives are discovering that before you leap, you must learn, and as you are learning you are uniquely and strategically positioned to launch what comes next for your life.
Reserve your space and discover truths that will ignite your passion to keep it moving! Registration includes seminar, lunch, and a gift. Cost per person $55. Group and Package rates available. On-site registration is unavailable as lunch is prepared based on accurate registration numbers.
Learn & Launch Series
April 6, 2012, DC Empowerment Luncheon
TIME: 11a-2p
The Willard Building
1455 Pennsylvania NW 4th Floor
Washington, DC 20004
Registration: $55 (Registration includes the seminar, lunch and book.)

Complete your registration by securing your spot in this exclusive and informative seminar. Your life will never be the same!
The cost of this seminar is tax deductible.

ORDER TODAY to begin your journey to a balanced life!